Dental Veneers in Sterling, VA
In a perfect world, everyone would have a smile that they are confident in. People wouldn't have to deal with stains, damaged teeth or other problems that negatively impact their appearance. While we don't live in a perfect world, Artiste Dentistry makes it possible to still have that perfect smile (even if you weren't born with it). If cosmetic imperfections are making our smile fall flat, then dental veneer might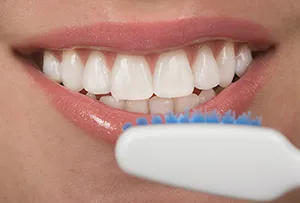 just be the cosmetic pick-me-up you need.
Dental veneers are ultra-thin shells typically made from porcelain that are designed to cover the entire front surface of a tooth to alter its appearance. Whether you are someone dealing with discolorations, chips, cracks, gaps between teeth or other aesthetic flaws in your smile, you too could benefit from what our Sterling, VA, cosmetic dentist, Dr. Tara Moshiri, has to offer.
Here at Artiste Dentistry, our cosmetic dental team believes that restorations should look as natural as possible. That's why we work tirelessly to make sure that you get customized veneers that also offer you the results you've been looking for. We want to make your cosmetic goals a reality, and veneers might just be the best way to do it.
Dental veneers provide a simple, minimally invasive way to alter your smile for the long term. Before getting your veneers we will first need to prep your teeth. Luckily, tooth preparation is pretty minimal. Even though traditional veneers are thin they would be a bit too bulky if they were immediately applied to your teeth. This is why we will need to remove a small amount of enamel from the front surface of your teeth.
Next, Dr. Moshiri will take impressions so that the dental lab will have the precise measurements of your teeth to create your veneers. Once your veneers are ready, it's time for your fitting! However, before the veneers are even bonded to your teeth, we will make sure that you are thoroughly happy with the way they look. After all, our goal is to make sure you are happy with your new smile.
Once we know you are fully satisfied we will apply a bonding resin between the veneers and the front of your teeth and then harden the resin into place with a dental laser. A final polish will also guarantee that your new porcelain restorations really shine just like natural tooth enamel.
Are you interested in Dental Veneers?
Call Artiste Denitstry LLC in Sterling, VA at (703) 434-3286 today!
Related Articles