Insurance and Billing
We accept most traditional insurance plans and discount plans. Contact our office to verify acceptance of your plan. Artiste Dentistry does not participate in Health Management Organizations; however, we will be happy to file your insurance claims for you.
Important Dental Insurance Information for our Patients:
Understanding your insurance coverage can be quite challenging. Our goal is to assist you in maximizing your benefits. We care for patients from many different companies. Each company pays an insurance premium for specific coverage which fits the company budget. Each plan is slightly different in its covered services. We encourage you to become familiar with your policy exclusions, deductibles, and required co-payments.
Our Courtesy Service to you includes:
Researching your dental insurance plan to advise you of benefits available to you.
Following the American Dental Association guidelines for coding procedures and filing insurance.
Filing your insurance on your behalf within 48 hours of your visit and requesting payment of your benefit to our office.
Please review our complete office & financial policies by clicking on the file below:
Artiste Dentistry Financial Policy.pdf
Accepted Insurances:
Our office is in network with the following insurances:
Please Contact our office to verify acceptance of your plan if your insurance is not listed. We may accept your insurance as an out of network provider.
Accepted Discount Plans:
Aetna - Vital Savings by Aetna(R) Dental and Prescription Discount Program
Aetna- Vital Savings by Aetna(R) Dental Discount Program
Alliance HealthCard Savings Card
Aon Dental Solutions Plan
Cigna 1000 Dental Insurance
Cigna 1500 Dental Insurance
CIGNAPlus Savings Powered By CIGNA Dental Network Access
CVS iSave
DenteMax Discount Dental Plan
DP CompleteCare
DP SmartHealth
iDental Discount Plan by United Concordia
Patriot Plan Plus
Preferred Network Access by CIGNA (Dental Only)
UNI-CARE 100 Discount Dental Plan
UNI-CARE 200 Discount Dental PlanAccess Dental Plan
For more information on accepted discount plans and/or to become a member go to www.DentalPlans.com
Use our exclusive Promo Code PA320754 after visiting DentalPlans.com site or mention our Promo Code by calling 1-877-242-1452 to get 20% off of annual membership fee.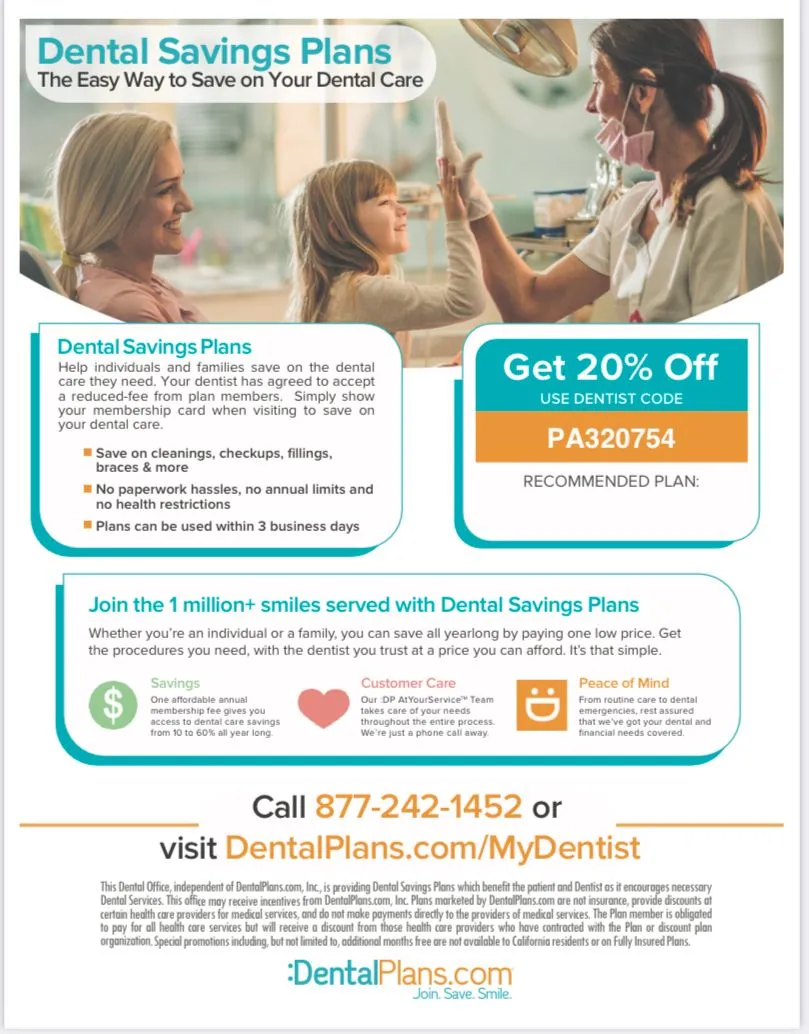 For more insurance information and resources please click on the following keywords:
Click on Glossary of Insurance Terms to help you better understand your insurance coverage & details.
*Artiste Dentistry VIP Program*
We offer a very exciting program for patients with no insurance to considerably save members with their dental needs. Most patients find it more financially beneficial than having an insurance or a discount plan. Our goal is to make high quality dental care available to our patients in an affordable friendly manner. Under your membership there are:
NO Maximums
NO Deductibles
NO Pre-exisiting Exclusions
NO Waiting Period
NO Pre-determination Approvals
As a member you are entitled to:
2 regular check-ups per contract year per individual
(You only pay $60 for cleaning/exam/bw-xrays per visit)
Annual membership fee is $200 per individual and only $50 per additional family member
30% discount on all dental treatments from our nationally standardized office fees.
Senior Citizens get an additional 5% discount on all dental treatments.
Make sure to ask about our VIP program when scheduling an appointment. Also, visit our Specials & Promotions page for additional offers
Financing: We accept checks, cash, and major credit cards. We also offer a flexible payment plan.
Payment Plans:
For patients who prefer a monthly payment plan, we have made arrangements with CareCredit® , SingularBillPay & DocPay. With CareCredit there are no application fees or down payments and approval is usually provided quickly. The CareCredit loan may be interest-free for up to twelve months. Applications and additional information are available from our receptionist.
Online Payments:
Online payment is now available!