Our office is currently offering "New Patient Specials" & VIP Program for patients without insurance including considerable savings on exam, cleaning, diagnostic x-rays & all dental treatments including cosmetic dentistry, Tooth Whitening & more...
Make sure to ask us about our seasonal specials prior to making an appointment! Also mention any new patient whitening promotions that you may have received to insure proper credit.
"New Patient Special"
Exam, Diagnostic X-rays, Cleaning with Fluoride Treatment : $139 ($280 value)
(Does not include deep cleaning or scaling & root planing)

Children's Exam, X-rays, Cleaning & Polishing with Fluoride Treatment : $89 ($220 value).
---
**********
"Teeth Whitening Special"
"Make a Whiter Brighter Smile an Affordable Reality"
Get a Whiter Brighter Smile starting at only $45 for a limited time!
In Office Teeth Whitening Treatment: $350
Includes two 30 minute whitening cycles in one session
Take Home Whitening Kit: $240
Includes Custom Made Whitening Trays & 8 Whitening Gels
Take Home Whitening Mini Kit: $120
Includes Custom Made Whitening Trays & 4 Whitening Gels

Whitening Pen: $45
Take advantage of our exclusive family & friends whitening special:
Also gift a brighter smile to your friends & family at an additional 10% discount & Mention Code: ArtisteWhite10
*Your smile is the first thing people notice when they see you!*
**********
---
"Artiste Dentistry VIP Program"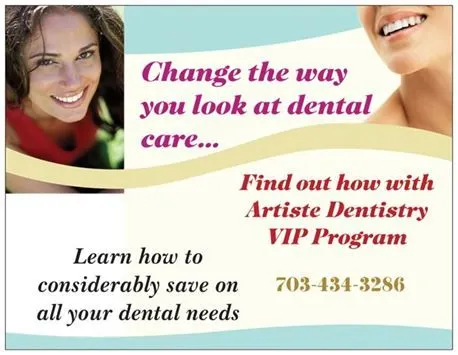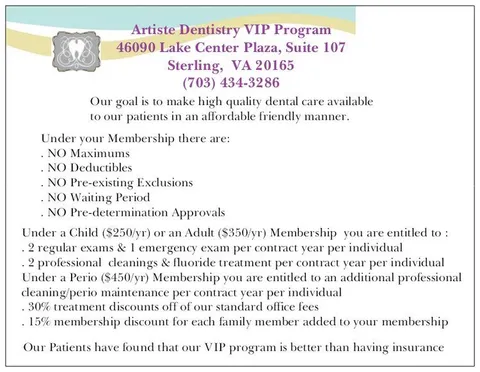 We offer a very exciting program for patients with no insurance to considerably save members with their dental needs. Most patients find it more financially beneficial than having an insurance or a discount plan with no contract & no obligation. Our goal is to make high quality dental care available to our patients in an affordable friendly manner
Make sure to ask about our VIP program when scheduling an appointment!
Join our Artiste Dentistry VIP Program by clicking:
Sign Me Up with Artiste Dentistry VIP Program
---
"Smile Make Over Complimentary Consult & Treatment Credit"
---

"Share the Care & Enter to Win Monthly Prizes!"
As a token of our appreciation for your kind referrals, for each referral you make, an entry will be made in your name in our monthly drawings. Each additional referral is an additional entry in your name.
You will enter to win Whitening Kit ($200 value) or Gift Certificate to one of your favorite stores.
Drawings will be held once a month. Minimum of 10 entries are required for monthly drawings. If minimum number of entries is not met, the entries will be added to next month's drawing.
"Download Artiste App & Join our Loyalty Rewards Program"
Earn an award or gift card of your choice by collecting 3 stamps in Loyalty Rewards tab from downloaded Artiste App . Each stamp is earned by renewing Artiste VIP Program, not missing or cancelling appointments in 24 months, maintaining a healthy smile with keeping bi-annual hygiene visits, or simply being an ambassador for Artiste Dentistry & sharing the care!
Visit our Artiste App page of our website for more details.
Our Monthly Drawing Winners:
Congratulations to Claudia. M for being our monthly drawing I-Pod winner!
Also Check out our seasonal Groupon Deals
Be an ambassador for Artiste Dentistry & review our practice online via Google Maps &/or Yelp
Simply click on each hyper link to direct you to the site online