Teeth Whitening in Sterling, VA
Whether you are a professed coffee drinker or you used to be a smoker, there are so many habits that can lead to a dull, yellow smile. Our smile's whiteness naturally starts to fade over time, but there is something Dr. Tara Moshiri and her expert cosmetic dentistry team in Sterling, VA can do to reverse these discolorations and to get your teeth instantly whiter: professional chairside teeth whitening.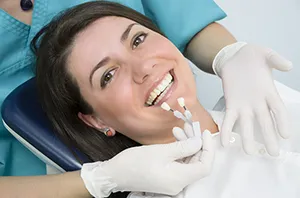 Here at Artistic Dentistry, the key to getting smiles several shades whiter in often just one visit has to do with the high-concentration whitening gel that we use. Teeth whitening gels always contain an active ingredient such as hydrogen or carbamide peroxide. Over-the-counter whitening gels don't contain as high a percentage of peroxide as our in-office system because our Sterling dental team has been trained to safely and effectively apply and monitor these more powerful whitening gels. Of course, as you can imagine, this means that you'll get faster and more visible whitening results when you get teeth whitening from us.
In-office teeth whitening is a simple and non-invasive cosmetic procedure. A small device will be used to prevent cheeks and lips from coming in contact with the whitening gel, which can irritate sensitive tissue. Now that the teeth are revealed, we can apply the first gel application the front surface.
Once the gel is applied over the front surface of your teeth, we will leave the gel on for several minutes. Sometimes a dental laser will be used to activate the gel and speed up the whitening process. Before you get your teeth whitening treatment, our sterling dentist will sit down with you and discuss the steps we will take to get your smile whiter.
In most cases, we will apply, remove and reapply whitening gels two to three times throughout the course of your one-hour whitening treatment.
Some people can easily get the results they want in just one session, but those with more severe stains may benefit from multiple teeth whitening treatments. If you want to maintain your results longer you can continue to come in for maintenance treatments once a year or ask about our at-home whitening system.
Are you interested in Teeth Whitening? Call Artiste Dentistry LLC
in Sterling, VA at (703) 434-3286 today!
Related Articles