Online Dental Education Library
Our team of dental specialists and staff strive to improve the overall health of our patients by focusing on preventing, diagnosing and treating conditions associated with your teeth and gums. Please use our dental library to learn more about dental problems and treatments available. If you have questions or need to schedule an appointment, contact us.


A
Air abrasion - is a drill-less technique that is being used by some dentists to remove tooth decay and for other applications
Amalgam - Material made from mercury and other alloy mixtures used to restore a drilled portion of a tooth.
Anesthesia - Medications used to relieve pain.
Anterior teeth - Front teeth. Also called incisors and cuspids.
Arch - The upper or lower jaw.
B
Baby bottle tooth decay - Caused by sugary substances in breast milk and some juices, which combine with saliva to form pools inside the baby's mouth.
Bicuspids -Back teeth used for chewing.
Bitewings - X-rays that help a dentist diagnose cavities.
Bonding - Application of tooth-colored resin materials to the surface of the teeth.
Bridge - A fixed or removable appliance that replaces lost teeth.
Bruxism - Teeth grinding.
C
CAD/CAM dentistry, (Computer-Aided Design and Computer-Aided Manufacturing in dentistry), is an area of dentistry utilizing CAD/CAM technologies to produce different types of dental restorations, including crowns, crownlays, veneers, inlays and onlays, fixed bridges, dental implant restorations and orthodontic appliances.
Calculus (tartar)- Calculus is hardened plaque (a sticky substance) that has been left on the tooth for some time and is now firmly attached to the tooth surface. Calculus forms above and below the gum line and can only be removed with special dental instruments.
Canal - The narrow chamber inside the tooth's root.
Canines - Also called cuspids.
Canker sore - One that occurs on the delicate tissues inside your mouth. A canker sore is usually light-colored at its base and can have a red exterior border.
Caries - Another term for decay, which causes cavities.
Cold sore - Usually occurs on the outside of the mouth, usually on or near the nose or lips. A cold sore is contagious because it is caused by the herpes simplex virus, and it is usually painful and filled with fluid.
Composite filling - Tooth colored restorations, also known as resin fillings.
Composite resin - A tooth colored resin combined with silica or porcelain and used as a restoration material.
Contouring - The process of reshaping teeth.
Crown - An artificial cover that is placed on the top of a tooth following restoration.
Cusps - The pointed parts on top of the back teeth's chewing surface.
Cuspids - Front teeth that typically have a protruding edge.
D
Dentin - The tooth layer underneath the enamel.
Denture - A removable set of teeth.
E
Endodontics - A form of dentistry that addresses problems affecting the tooth's root or nerve.
F
Fluoride - A naturally occurring substance added to water, toothpastes and some rinses and used for strengthening the tooth's enamel.
Fluorosis - A harmless over-exposure to fluoride and resulting sometimes in tooth discoloration.
G
Gingiva - Another word for gum tissue.
Gingivitis - A minor disease of the gums caused by plaque.
Gum disease - An infection of the gum tissues. Also called periodontal disease.
I
Impacted teeth - A condition in which a tooth fails to erupt or only partially erupts.
Implant - A permanent appliance used to replace a missing tooth.
Incisor - Front teeth with cutting edges; located in the center or on the sides near the front.
Inlay - An indirect artificial filling made of various materials, including porcelain, resin, or gold. fitted to a cavity in a tooth and cemented into place.
Intracoronal - situated or made within the crown of a tooth
L
Laminate veneer - A shell that is bonded to the enamel of a front tooth. The shell is usually thin and made from porcelain resin.
M
Malocclusion - Bad bite relationship
Mandible - The lower jaw
Maxilla - The upper jaw
Molar - Usually the largest teeth, near the rear of the mouth. Molars have large chewing surfaces
N
Nightguard - Night mouth guards are bite pads that are worn at night as you sleep. There are also used as mouth guards for day use. These guards are made of high-grade plastic and are custom fit to the mouth. This device keeps the upper teeth from grinding with the lower teeth, offering an instant solution to teeth clenching problems.
Neuromuscular Dentistry - Are more than the aches and pains felt in and around the neck and head that are associated with your teeth and jaw.
O
Onlay - An indirect artificial filling made of various materials, including porcelain, resin, or gold; fitted to a cavity in a tooth and cemented into place. It is designed to protect the chewing surface of a tooth by extending to replace a cusp.
Orthodontics - A field of dentistry that deals with tooth and jaw alignment.
Overdenture - A non-fixed dental appliance applied to a small number of natural teeth or implants.
P
Palate - Roof of the mouth.
Partial denture - A removable appliance that replaces teeth. Also called a bridge.
Pedodontics - A field of dentistry that deals with children's teeth.
Perio pocket - An opening formed by receding gums.
Periodontal disease - Infection of the gum tissues. Also called gum disease.
Periodontist - A dentist who treats diseases of the gums.
Permanent teeth - The teeth that erupt after primary teeth. Also called adult teeth.
Plaque -Plaque is a sticky, colorless, almost invisible film or substance that forms on the teeth after sleep or periods between brushing. It is a growing colony of living bacteria, food debris, and saliva.
Posterior teeth - The bicuspids and molars. Also called the back teeth.
Primary teeth - A person's first set of teeth. Also called baby teeth or temporary teeth.
Prophylaxis - The act of cleaning the teeth.
Prosthodontics - The field of dentistry that deals with artificial dental appliances.
Pulp - The inner tissues of the tooth containing blood, nerves and connective tissue.
R
Radiographs - Diagnostic X-rays essential for detection of decay, tumors, cysts, and bone loss. X-rays also help determine tooth and root positions.
Receding gum - A condition in which the gums separate from the tooth, allowing bacteria and other substances to attack the tooth's enamel and surrounding bone.
Resin filling - An artificial filling used to restore teeth. Also called a composite filling.
Root canal - A procedure in which a tooth's nerve is removed and an inner canal cleansed and later filled.
Root planing - Scraping or cleansing of teeth to remove heavy buildup of tartar below the gum line.
S
Sealant - A synthetic material placed on the tooth's surface that protects the enamel and chewing surfaces.
T
Tartar - A hardened substance (also called calculus) that sticks to the tooth's surface.
Tooth decay – Tooth decay occurs when the acids found in plaque erode the natural enamel found on the teeth. This phenomenon can easily be prevented by using proper home hygiene methods. Tooth decay is one of the leading causes of tooth loss, and its treatment often requires complex dental procedures.Teeth polishing: Removal of stain and plaque that is not otherwise removed during tooth brushing and scaling.
TMD - Temporomandibular joint disorder. Health problems related to the jaw joint just in front of the ear.
V
Veneer - A laminate applied or bonded to the tooth.
W
Whitening - A process that employs special bleaching agents for restoring the color of teeth.
Wisdom tooth - Third set of molars that erupt last in adolescence.

Maintaining good oral health has many rewards: A sparkling smile, fresh breath, and healthy gums. But recent scientific evidence suggests that it may have an even greater benefit to your overall health: Specifically, it could potentially reduce your risk for a number of systemic (whole-body) diseases, including cardiovascular disease (CVD), diabetes, and rheumatoid arthritis — even premature birth.
Periodontal (gum) disease is estimated to affect nearly half of all Americans, and is the major cause of adult tooth loss. Numerous studies have shown that patients with severe periodontal disease are at increased risk for developing cardiovascular disease. Periodontitis may also increase the chance that diabetes will develop or progress, and research suggests an association between gum disease and adverse pregnancy outcomes as well.
Inflammation: Friend and Foe
What's the link between diseases of the mouth — like gum disease — and those of the body? They are connected by the body's natural reaction to harmful stimuli, which we call the inflammatory response. Often characterized by pain, redness and swelling, inflammation is a process by which your immune system responds to damage or disease in your tissues. Inflammation can help the body heal — or, if it becomes chronic, it can lead to more serious problems.
Gum disease (periodontitis), CVD, diabetes and rheumatoid arthritis are all associated with the same type of inflammatory response. Studies have found that moderate to severe periodontitis tends to increase the level of systemic inflammation — a condition that may smolder in the background, awaiting the right conditions to flare into a more serious disease. It has also been shown that the same strains of bacteria that are found in inflamed gum tissue may also appear in the arterial plaques of individuals suffering from CVD.
How Does It Work?
While there is intriguing evidence of a link between gum disease and other systemic diseases, further studies will be needed to prove whether one causes the other. At present, however, several mechanisms have been proposed to explain how the connection works. One suggestion is that oral bacteria themselves may enter the bloodstream, form into clumps, and trigger systemic inflammation. The inflammatory response can cause swelling of cells and tissues, which narrow the arteries and increase the risk of blood clots.
Another possibility is that byproducts of oral bacteria released into the bloodstream could trigger the production of substances called CRPs (C-reactive proteins) in the liver. These proteins tend to inflame blood vessels and promote the formation of clots, possibly leading to clogged arteries, heart disease and stroke. Elevated CRP levels, according to some studies, are a stronger predictor of heart attack than cholesterol levels.
What You Can Do
Since chronic inflammation is a systemic problem, the best way to begin controlling it is via a whole-body approach. Maintaining a healthy weight, getting moderate exercise (and, if you use tobacco, quitting the habit) will help with this. So will bringing untreated inflammatory diseases, such as periodontitis, under control.
There are a number of effective treatments for periodontal disease, including nonsurgical procedures such as root cleaning and the local application of antimicrobials. For more serious conditions, conventional or laser gum surgery is an option. Finally, to keep your gums healthy between office visits, you need to develop an effective oral hygiene routine you can practice at home.
Although it's too early to say that periodontal disease causes heart disease or other systemic conditions, they seem to have a connection. And while medicine and dentistry can't change genetics, together we can control external factors like excess weight, tobacco use… and gum disease. Maintaining good oral hygiene is the best way to avoid periodontal problems. But if problems occur, don't wait: The sooner you have treatment, the better your chances for controlling gum disease — and perhaps systemic diseases too.
Related Articles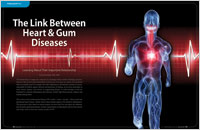 The Link Between Heart & Gum Diseases Inflammation has emerged as a factor that is involved in the process of Cardiovascular Disease (CVD), which commonly results in heart attacks and strokes. While the precise role inflammation plays in causing chronic CVD remains an area of intense current investigation, much more is now known... Read Article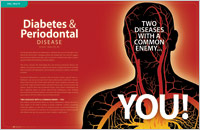 Diabetes & Periodontal Disease Diabetes and periodontal disease are chronic inflammatory diseases that impact the health of millions of people. What you may not know is that diabetes and periodontal disease can adversely affect each other... Read Article