Online Dental Education Library
Our team of dental specialists and staff strive to improve the overall health of our patients by focusing on preventing, diagnosing and treating conditions associated with your teeth and gums. Please use our dental library to learn more about dental problems and treatments available. If you have questions or need to schedule an appointment, contact us.


A
Air abrasion - is a drill-less technique that is being used by some dentists to remove tooth decay and for other applications
Amalgam - Material made from mercury and other alloy mixtures used to restore a drilled portion of a tooth.
Anesthesia - Medications used to relieve pain.
Anterior teeth - Front teeth. Also called incisors and cuspids.
Arch - The upper or lower jaw.
B
Baby bottle tooth decay - Caused by sugary substances in breast milk and some juices, which combine with saliva to form pools inside the baby's mouth.
Bicuspids -Back teeth used for chewing.
Bitewings - X-rays that help a dentist diagnose cavities.
Bonding - Application of tooth-colored resin materials to the surface of the teeth.
Bridge - A fixed or removable appliance that replaces lost teeth.
Bruxism - Teeth grinding.
C
CAD/CAM dentistry, (Computer-Aided Design and Computer-Aided Manufacturing in dentistry), is an area of dentistry utilizing CAD/CAM technologies to produce different types of dental restorations, including crowns, crownlays, veneers, inlays and onlays, fixed bridges, dental implant restorations and orthodontic appliances.
Calculus (tartar)- Calculus is hardened plaque (a sticky substance) that has been left on the tooth for some time and is now firmly attached to the tooth surface. Calculus forms above and below the gum line and can only be removed with special dental instruments.
Canal - The narrow chamber inside the tooth's root.
Canines - Also called cuspids.
Canker sore - One that occurs on the delicate tissues inside your mouth. A canker sore is usually light-colored at its base and can have a red exterior border.
Caries - Another term for decay, which causes cavities.
Cold sore - Usually occurs on the outside of the mouth, usually on or near the nose or lips. A cold sore is contagious because it is caused by the herpes simplex virus, and it is usually painful and filled with fluid.
Composite filling - Tooth colored restorations, also known as resin fillings.
Composite resin - A tooth colored resin combined with silica or porcelain and used as a restoration material.
Contouring - The process of reshaping teeth.
Crown - An artificial cover that is placed on the top of a tooth following restoration.
Cusps - The pointed parts on top of the back teeth's chewing surface.
Cuspids - Front teeth that typically have a protruding edge.
D
Dentin - The tooth layer underneath the enamel.
Denture - A removable set of teeth.
E
Endodontics - A form of dentistry that addresses problems affecting the tooth's root or nerve.
F
Fluoride - A naturally occurring substance added to water, toothpastes and some rinses and used for strengthening the tooth's enamel.
Fluorosis - A harmless over-exposure to fluoride and resulting sometimes in tooth discoloration.
G
Gingiva - Another word for gum tissue.
Gingivitis - A minor disease of the gums caused by plaque.
Gum disease - An infection of the gum tissues. Also called periodontal disease.
I
Impacted teeth - A condition in which a tooth fails to erupt or only partially erupts.
Implant - A permanent appliance used to replace a missing tooth.
Incisor - Front teeth with cutting edges; located in the center or on the sides near the front.
Inlay - An indirect artificial filling made of various materials, including porcelain, resin, or gold. fitted to a cavity in a tooth and cemented into place.
Intracoronal - situated or made within the crown of a tooth
L
Laminate veneer - A shell that is bonded to the enamel of a front tooth. The shell is usually thin and made from porcelain resin.
M
Malocclusion - Bad bite relationship
Mandible - The lower jaw
Maxilla - The upper jaw
Molar - Usually the largest teeth, near the rear of the mouth. Molars have large chewing surfaces
N
Nightguard - Night mouth guards are bite pads that are worn at night as you sleep. There are also used as mouth guards for day use. These guards are made of high-grade plastic and are custom fit to the mouth. This device keeps the upper teeth from grinding with the lower teeth, offering an instant solution to teeth clenching problems.
Neuromuscular Dentistry - Are more than the aches and pains felt in and around the neck and head that are associated with your teeth and jaw.
O
Onlay - An indirect artificial filling made of various materials, including porcelain, resin, or gold; fitted to a cavity in a tooth and cemented into place. It is designed to protect the chewing surface of a tooth by extending to replace a cusp.
Orthodontics - A field of dentistry that deals with tooth and jaw alignment.
Overdenture - A non-fixed dental appliance applied to a small number of natural teeth or implants.
P
Palate - Roof of the mouth.
Partial denture - A removable appliance that replaces teeth. Also called a bridge.
Pedodontics - A field of dentistry that deals with children's teeth.
Perio pocket - An opening formed by receding gums.
Periodontal disease - Infection of the gum tissues. Also called gum disease.
Periodontist - A dentist who treats diseases of the gums.
Permanent teeth - The teeth that erupt after primary teeth. Also called adult teeth.
Plaque -Plaque is a sticky, colorless, almost invisible film or substance that forms on the teeth after sleep or periods between brushing. It is a growing colony of living bacteria, food debris, and saliva.
Posterior teeth - The bicuspids and molars. Also called the back teeth.
Primary teeth - A person's first set of teeth. Also called baby teeth or temporary teeth.
Prophylaxis - The act of cleaning the teeth.
Prosthodontics - The field of dentistry that deals with artificial dental appliances.
Pulp - The inner tissues of the tooth containing blood, nerves and connective tissue.
R
Radiographs - Diagnostic X-rays essential for detection of decay, tumors, cysts, and bone loss. X-rays also help determine tooth and root positions.
Receding gum - A condition in which the gums separate from the tooth, allowing bacteria and other substances to attack the tooth's enamel and surrounding bone.
Resin filling - An artificial filling used to restore teeth. Also called a composite filling.
Root canal - A procedure in which a tooth's nerve is removed and an inner canal cleansed and later filled.
Root planing - Scraping or cleansing of teeth to remove heavy buildup of tartar below the gum line.
S
Sealant - A synthetic material placed on the tooth's surface that protects the enamel and chewing surfaces.
T
Tartar - A hardened substance (also called calculus) that sticks to the tooth's surface.
Tooth decay – Tooth decay occurs when the acids found in plaque erode the natural enamel found on the teeth. This phenomenon can easily be prevented by using proper home hygiene methods. Tooth decay is one of the leading causes of tooth loss, and its treatment often requires complex dental procedures.Teeth polishing: Removal of stain and plaque that is not otherwise removed during tooth brushing and scaling.
TMD - Temporomandibular joint disorder. Health problems related to the jaw joint just in front of the ear.
V
Veneer - A laminate applied or bonded to the tooth.
W
Whitening - A process that employs special bleaching agents for restoring the color of teeth.
Wisdom tooth - Third set of molars that erupt last in adolescence.

The complex devices all around us — from long-range satellite links in our cars and offices to powerful computers in our hand-held gadgets — prove beyond a doubt that we live in a technology-driven world. In the field of dentistry, new technology is constantly changing the way diseases are diagnosed, routine procedures are performed, and illnesses are prevented. Although they may seem unfamiliar at first, new and improved dental technologies offer plenty of real benefits for patients. Here's a look at some of the latest examples, coming soon to (or now appearing at) a dental office near you.
Air Abrasion Technology. Bothered by the noise and vibration of the dental drill? This air-powered device could make that familiar high-pitched whine a thing of the past! Working like a mini-sandblaster for teeth, this hand-held device removes tiny amounts of tooth material with precision control.
Anesthesia Wand. If you don't like needles, this may be just what the doctor ordered: a pen-like device that meters out the precise amount of anesthetic you need — and even pre-numbs the insertion site, so you really won't feel a thing!
CAD/CAM Same-day Crown Fabrication. Hate to wait? By combining 3-D digital imaging and computer-aided design and manufacturing technology, it's now possible to have permanent crown restorations completed in a single day — much better than leaving the office with temporary crowns and coming back weeks later for permanent ones!
Cone Beam CT Imaging. What's better than an x-ray of your teeth? An on-screen, movable 3-D representation of your jaws! By taking a series of x-ray "slices" and stitching the images together with a powerful computer program, Cone Beam CT imaging creates a virtual model of your mouth. It can be used to find disease, plan procedures, and visualize internal structures that formerly wouldn't have been visible without surgery.
Dental Implants. Tooth replacement took a giant leap forward with the widespread use of dental implants — today's preferred method of replacing teeth. Dental implants are small titanium posts that replace the root part of your missing tooth. A realistic dental crown is then attached to the implant for a replacement tooth that looks and feels exactly like what nature gave you.
Digital Dental Impressions. Remember biting down on a tray of putty-like material, so a model could be made of your teeth? A digital imaging device now makes that unnecessary. Instead, your teeth can be "dusted" with a fine reflective powder, which is then recorded by a special camera. A series of images is converted into a 3-D model, which can be used to assess a tooth's condition or fabricate dental restorations.
Digital X-Rays. Diagnostic x-rays have long been invaluable to dentistry. The emergence of digital technology in the past decade, however, has made dental x-rays safer and even more useful. Digital technology cuts radiation exposure to patients by as much as 90% over traditional x-rays. And there are other advantages including the elimination of waiting time for pictures to develop, and sharper images that can be enhanced instantly to show detail.
Intra-Oral Camera. A picture is worth… plenty, when it comes to helping you understand your dental examination, diagnosis and treatment! With these tiny cameras, you can see what the dentist sees, on a small chair-side monitor. The images of your teeth can be saved as stills or video — or even printed out — so you can see exactly what's happening in your mouth.
Laser Diagnosis and Treatment. They're inside DVD players and scanner wands — and now, they are making their dental debut. Lasers are being used to detect tiny spots of tooth decay, treat gum disease, and remove cancerous cells in the mouth. They are also employed in gum surgery… even cavity treatments!
Related Articles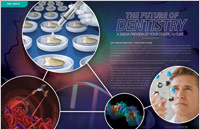 The Future Of Dentistry Can you imagine the day your dentist actually grows you a new tooth to replace one that has been lost? Can you conceive of the day when dentists protect babies from tooth decay before they even have teeth? Learn more about these exciting innovations — they're closer than you think... Read Article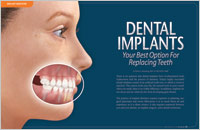 Dental Implants – Your Best Option For Replacing Teeth Dental implants have many advantages over older methods of tooth replacement like bridges and dentures — from the way they function and feel to the way they look and last. Vigorous research has documented and confirmed that in the right situations, dental implant success rates are over 95%. It is no exaggeration to say that they have revolutionized dentistry. They may even change your life... Read Article