Osteoporosis & Oral Health
Online Dental Education Library
Our team of dental specialists and staff strive to improve the overall health of our patients by focusing on preventing, diagnosing and treating conditions associated with your teeth and gums. Please use our dental library to learn more about dental problems and treatments available. If you have questions or need to schedule an appointment, contact us.


A
Air abrasion - is a drill-less technique that is being used by some dentists to remove tooth decay and for other applications
Amalgam - Material made from mercury and other alloy mixtures used to restore a drilled portion of a tooth.
Anesthesia - Medications used to relieve pain.
Anterior teeth - Front teeth. Also called incisors and cuspids.
Arch - The upper or lower jaw.
B
Baby bottle tooth decay - Caused by sugary substances in breast milk and some juices, which combine with saliva to form pools inside the baby's mouth.
Bicuspids -Back teeth used for chewing.
Bitewings - X-rays that help a dentist diagnose cavities.
Bonding - Application of tooth-colored resin materials to the surface of the teeth.
Bridge - A fixed or removable appliance that replaces lost teeth.
Bruxism - Teeth grinding.
C
CAD/CAM dentistry, (Computer-Aided Design and Computer-Aided Manufacturing in dentistry), is an area of dentistry utilizing CAD/CAM technologies to produce different types of dental restorations, including crowns, crownlays, veneers, inlays and onlays, fixed bridges, dental implant restorations and orthodontic appliances.
Calculus (tartar)- Calculus is hardened plaque (a sticky substance) that has been left on the tooth for some time and is now firmly attached to the tooth surface. Calculus forms above and below the gum line and can only be removed with special dental instruments.
Canal - The narrow chamber inside the tooth's root.
Canines - Also called cuspids.
Canker sore - One that occurs on the delicate tissues inside your mouth. A canker sore is usually light-colored at its base and can have a red exterior border.
Caries - Another term for decay, which causes cavities.
Cold sore - Usually occurs on the outside of the mouth, usually on or near the nose or lips. A cold sore is contagious because it is caused by the herpes simplex virus, and it is usually painful and filled with fluid.
Composite filling - Tooth colored restorations, also known as resin fillings.
Composite resin - A tooth colored resin combined with silica or porcelain and used as a restoration material.
Contouring - The process of reshaping teeth.
Crown - An artificial cover that is placed on the top of a tooth following restoration.
Cusps - The pointed parts on top of the back teeth's chewing surface.
Cuspids - Front teeth that typically have a protruding edge.
D
Dentin - The tooth layer underneath the enamel.
Denture - A removable set of teeth.
E
Endodontics - A form of dentistry that addresses problems affecting the tooth's root or nerve.
F
Fluoride - A naturally occurring substance added to water, toothpastes and some rinses and used for strengthening the tooth's enamel.
Fluorosis - A harmless over-exposure to fluoride and resulting sometimes in tooth discoloration.
G
Gingiva - Another word for gum tissue.
Gingivitis - A minor disease of the gums caused by plaque.
Gum disease - An infection of the gum tissues. Also called periodontal disease.
I
Impacted teeth - A condition in which a tooth fails to erupt or only partially erupts.
Implant - A permanent appliance used to replace a missing tooth.
Incisor - Front teeth with cutting edges; located in the center or on the sides near the front.
Inlay - An indirect artificial filling made of various materials, including porcelain, resin, or gold. fitted to a cavity in a tooth and cemented into place.
Intracoronal - situated or made within the crown of a tooth
L
Laminate veneer - A shell that is bonded to the enamel of a front tooth. The shell is usually thin and made from porcelain resin.
M
Malocclusion - Bad bite relationship
Mandible - The lower jaw
Maxilla - The upper jaw
Molar - Usually the largest teeth, near the rear of the mouth. Molars have large chewing surfaces
N
Nightguard - Night mouth guards are bite pads that are worn at night as you sleep. There are also used as mouth guards for day use. These guards are made of high-grade plastic and are custom fit to the mouth. This device keeps the upper teeth from grinding with the lower teeth, offering an instant solution to teeth clenching problems.
Neuromuscular Dentistry - Are more than the aches and pains felt in and around the neck and head that are associated with your teeth and jaw.
O
Onlay - An indirect artificial filling made of various materials, including porcelain, resin, or gold; fitted to a cavity in a tooth and cemented into place. It is designed to protect the chewing surface of a tooth by extending to replace a cusp.
Orthodontics - A field of dentistry that deals with tooth and jaw alignment.
Overdenture - A non-fixed dental appliance applied to a small number of natural teeth or implants.
P
Palate - Roof of the mouth.
Partial denture - A removable appliance that replaces teeth. Also called a bridge.
Pedodontics - A field of dentistry that deals with children's teeth.
Perio pocket - An opening formed by receding gums.
Periodontal disease - Infection of the gum tissues. Also called gum disease.
Periodontist - A dentist who treats diseases of the gums.
Permanent teeth - The teeth that erupt after primary teeth. Also called adult teeth.
Plaque -Plaque is a sticky, colorless, almost invisible film or substance that forms on the teeth after sleep or periods between brushing. It is a growing colony of living bacteria, food debris, and saliva.
Posterior teeth - The bicuspids and molars. Also called the back teeth.
Primary teeth - A person's first set of teeth. Also called baby teeth or temporary teeth.
Prophylaxis - The act of cleaning the teeth.
Prosthodontics - The field of dentistry that deals with artificial dental appliances.
Pulp - The inner tissues of the tooth containing blood, nerves and connective tissue.
R
Radiographs - Diagnostic X-rays essential for detection of decay, tumors, cysts, and bone loss. X-rays also help determine tooth and root positions.
Receding gum - A condition in which the gums separate from the tooth, allowing bacteria and other substances to attack the tooth's enamel and surrounding bone.
Resin filling - An artificial filling used to restore teeth. Also called a composite filling.
Root canal - A procedure in which a tooth's nerve is removed and an inner canal cleansed and later filled.
Root planing - Scraping or cleansing of teeth to remove heavy buildup of tartar below the gum line.
S
Sealant - A synthetic material placed on the tooth's surface that protects the enamel and chewing surfaces.
T
Tartar - A hardened substance (also called calculus) that sticks to the tooth's surface.
Tooth decay – Tooth decay occurs when the acids found in plaque erode the natural enamel found on the teeth. This phenomenon can easily be prevented by using proper home hygiene methods. Tooth decay is one of the leading causes of tooth loss, and its treatment often requires complex dental procedures.Teeth polishing: Removal of stain and plaque that is not otherwise removed during tooth brushing and scaling.
TMD - Temporomandibular joint disorder. Health problems related to the jaw joint just in front of the ear.
V
Veneer - A laminate applied or bonded to the tooth.
W
Whitening - A process that employs special bleaching agents for restoring the color of teeth.
Wisdom tooth - Third set of molars that erupt last in adolescence.

Osteoporosis is a condition that weakens bones and makes them more prone to fracture. Estimated to affect about 10 million Americans at present, it causes some 2 million fractures each year — and as our population ages, these numbers are expected to increase. Osteoporosis can affect any part of the body — including the jawbone that supports the teeth.
This may be of particular concern if you are considering certain dental procedures — for example, getting dental implants to replace missing teeth. Implants are today's gold standard for tooth replacement, because they look and function so much like real teeth. But their success depends on a process known as osseointegration, by which they fuse to living bone in the jaw. For this to occur, that bone must be relatively healthy; yet osteoporosis — and certain medications used to treat it — may affect your oral health.
Bone: An Ever-Changing Tissue
The living bone tissue in the body isn't like the dry, white skeleton you may have seen in a doctor's office or on TV. It is constantly being remodeled by two natural processes: resorption, in which the body removes and breaks down old, damaged bone; and bone formation, where the removed material is replaced by new, healthy bone. In an ideal situation, both processes happen at an equal rate; osteoporosis, however, tips the balance toward resorption, weakening the bone structure.
A class of drugs called bisphosphonates (whose brand names include Fosamax, Boniva, Reclast and Prolia) can inhibit resorption and help bring the two processes back into balance. But for reasons that aren't fully understood, these medications sometimes have a different effect on the bones of the jaw. In rare cases, long-term bisphosphonate users experience osteonecrosis of the jaw (ONJ), a condition in which isolated areas of jawbone lose their vitality and die. If you are a candidate for oral surgery, tooth extraction or implant placement, it's important to consider the possible effect of bisphosphonate use before you have this type of procedure.
Taking Medication
Over 90 percent of the people who suffer from bisphosphonate-associated ONJ received high doses of the medication intravenously — often for cancer treatment. Only a small percentage of those who take the drug orally are likely to develop this condition. So generally speaking, if you have osteoporosis or are at high risk of bone fractures, the benefit of taking these medications far outweighs the risk.
But if you are about to begin therapy with high doses of bisphosphonates, it's ideal to have a dental exam and resolve any oral disease before beginning the medication. Likewise, while you're receiving the medication, it's best to avoid invasive dental treatments if possible. However, since untreated oral disease may cause serious health problems, be sure to discuss the situation with all members of your medical team before making treatment decisions.
Most people who take oral bisphosphonates for osteoporosis won't have to postpone or avoid dental procedures, because they have little risk of developing ONJ. In the case of dental implant placement, the decision to proceed is made on an individual basis, after a thorough examination of the quality and quantity of tooth-supporting bone in the jaw. The presence of osteoporosis may influence the type of implants used, and the amount of healing time needed to complete the osseointegration process.
No matter what dental procedures you are considering, it is vital to keep us informed about any medical conditions you have, and any drugs you may be taking — both prescription and non-prescription.
Preventing Osteoporosis
There are several ways you can help prevent osteoporosis. For a start, make sure you're getting enough calcium and vitamin D. It also helps to decrease your caffeine and alcohol intake, and quit smoking. Weight-bearing exercise — physical activities that force you to work against gravity, like walking, jogging or weight training — can bring a host of benefits. And don't forget your regular visits to the dental office. Your dental professionals don't just help you to maintain good oral health — we encourage you to keep up your overall health as well.
Related Articles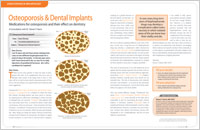 Osteoporosis & Dental Implants If you are taking a bisphosphonate drug for treatment of osteoporosis, any kind of surgery involving the jawbone has a small risk that bone healing may be compromised. This includes tooth removal and the placement of dental implants. It's an important subject that requires a better understanding... Read Article