Online Dental Education Library
Our team of dental specialists and staff strive to improve the overall health of our patients by focusing on preventing, diagnosing and treating conditions associated with your teeth and gums. Please use our dental library to learn more about dental problems and treatments available. If you have questions or need to schedule an appointment, contact us.


A
Air abrasion - is a drill-less technique that is being used by some dentists to remove tooth decay and for other applications
Amalgam - Material made from mercury and other alloy mixtures used to restore a drilled portion of a tooth.
Anesthesia - Medications used to relieve pain.
Anterior teeth - Front teeth. Also called incisors and cuspids.
Arch - The upper or lower jaw.
B
Baby bottle tooth decay - Caused by sugary substances in breast milk and some juices, which combine with saliva to form pools inside the baby's mouth.
Bicuspids -Back teeth used for chewing.
Bitewings - X-rays that help a dentist diagnose cavities.
Bonding - Application of tooth-colored resin materials to the surface of the teeth.
Bridge - A fixed or removable appliance that replaces lost teeth.
Bruxism - Teeth grinding.
C
CAD/CAM dentistry, (Computer-Aided Design and Computer-Aided Manufacturing in dentistry), is an area of dentistry utilizing CAD/CAM technologies to produce different types of dental restorations, including crowns, crownlays, veneers, inlays and onlays, fixed bridges, dental implant restorations and orthodontic appliances.
Calculus (tartar)- Calculus is hardened plaque (a sticky substance) that has been left on the tooth for some time and is now firmly attached to the tooth surface. Calculus forms above and below the gum line and can only be removed with special dental instruments.
Canal - The narrow chamber inside the tooth's root.
Canines - Also called cuspids.
Canker sore - One that occurs on the delicate tissues inside your mouth. A canker sore is usually light-colored at its base and can have a red exterior border.
Caries - Another term for decay, which causes cavities.
Cold sore - Usually occurs on the outside of the mouth, usually on or near the nose or lips. A cold sore is contagious because it is caused by the herpes simplex virus, and it is usually painful and filled with fluid.
Composite filling - Tooth colored restorations, also known as resin fillings.
Composite resin - A tooth colored resin combined with silica or porcelain and used as a restoration material.
Contouring - The process of reshaping teeth.
Crown - An artificial cover that is placed on the top of a tooth following restoration.
Cusps - The pointed parts on top of the back teeth's chewing surface.
Cuspids - Front teeth that typically have a protruding edge.
D
Dentin - The tooth layer underneath the enamel.
Denture - A removable set of teeth.
E
Endodontics - A form of dentistry that addresses problems affecting the tooth's root or nerve.
F
Fluoride - A naturally occurring substance added to water, toothpastes and some rinses and used for strengthening the tooth's enamel.
Fluorosis - A harmless over-exposure to fluoride and resulting sometimes in tooth discoloration.
G
Gingiva - Another word for gum tissue.
Gingivitis - A minor disease of the gums caused by plaque.
Gum disease - An infection of the gum tissues. Also called periodontal disease.
I
Impacted teeth - A condition in which a tooth fails to erupt or only partially erupts.
Implant - A permanent appliance used to replace a missing tooth.
Incisor - Front teeth with cutting edges; located in the center or on the sides near the front.
Inlay - An indirect artificial filling made of various materials, including porcelain, resin, or gold. fitted to a cavity in a tooth and cemented into place.
Intracoronal - situated or made within the crown of a tooth
L
Laminate veneer - A shell that is bonded to the enamel of a front tooth. The shell is usually thin and made from porcelain resin.
M
Malocclusion - Bad bite relationship
Mandible - The lower jaw
Maxilla - The upper jaw
Molar - Usually the largest teeth, near the rear of the mouth. Molars have large chewing surfaces
N
Nightguard - Night mouth guards are bite pads that are worn at night as you sleep. There are also used as mouth guards for day use. These guards are made of high-grade plastic and are custom fit to the mouth. This device keeps the upper teeth from grinding with the lower teeth, offering an instant solution to teeth clenching problems.
Neuromuscular Dentistry - Are more than the aches and pains felt in and around the neck and head that are associated with your teeth and jaw.
O
Onlay - An indirect artificial filling made of various materials, including porcelain, resin, or gold; fitted to a cavity in a tooth and cemented into place. It is designed to protect the chewing surface of a tooth by extending to replace a cusp.
Orthodontics - A field of dentistry that deals with tooth and jaw alignment.
Overdenture - A non-fixed dental appliance applied to a small number of natural teeth or implants.
P
Palate - Roof of the mouth.
Partial denture - A removable appliance that replaces teeth. Also called a bridge.
Pedodontics - A field of dentistry that deals with children's teeth.
Perio pocket - An opening formed by receding gums.
Periodontal disease - Infection of the gum tissues. Also called gum disease.
Periodontist - A dentist who treats diseases of the gums.
Permanent teeth - The teeth that erupt after primary teeth. Also called adult teeth.
Plaque -Plaque is a sticky, colorless, almost invisible film or substance that forms on the teeth after sleep or periods between brushing. It is a growing colony of living bacteria, food debris, and saliva.
Posterior teeth - The bicuspids and molars. Also called the back teeth.
Primary teeth - A person's first set of teeth. Also called baby teeth or temporary teeth.
Prophylaxis - The act of cleaning the teeth.
Prosthodontics - The field of dentistry that deals with artificial dental appliances.
Pulp - The inner tissues of the tooth containing blood, nerves and connective tissue.
R
Radiographs - Diagnostic X-rays essential for detection of decay, tumors, cysts, and bone loss. X-rays also help determine tooth and root positions.
Receding gum - A condition in which the gums separate from the tooth, allowing bacteria and other substances to attack the tooth's enamel and surrounding bone.
Resin filling - An artificial filling used to restore teeth. Also called a composite filling.
Root canal - A procedure in which a tooth's nerve is removed and an inner canal cleansed and later filled.
Root planing - Scraping or cleansing of teeth to remove heavy buildup of tartar below the gum line.
S
Sealant - A synthetic material placed on the tooth's surface that protects the enamel and chewing surfaces.
T
Tartar - A hardened substance (also called calculus) that sticks to the tooth's surface.
Tooth decay – Tooth decay occurs when the acids found in plaque erode the natural enamel found on the teeth. This phenomenon can easily be prevented by using proper home hygiene methods. Tooth decay is one of the leading causes of tooth loss, and its treatment often requires complex dental procedures.Teeth polishing: Removal of stain and plaque that is not otherwise removed during tooth brushing and scaling.
TMD - Temporomandibular joint disorder. Health problems related to the jaw joint just in front of the ear.
V
Veneer - A laminate applied or bonded to the tooth.
W
Whitening - A process that employs special bleaching agents for restoring the color of teeth.
Wisdom tooth - Third set of molars that erupt last in adolescence.

If you're like most people, you probably learned how to brush as a child… and chances are, you haven't thought about it much since then. That's understandable — but there may come a point when we find our oral hygiene techniques could use improvement. Here are a few tips on the proper way to brush your teeth… plus, a reminder of why we do it.
First, the reasons why: Brushing is an effective way to remove plaque — a sticky, bacteria-laden biofilm that clings stubbornly to your teeth. The bacteria in plaque produce acids, which erode the tooth's enamel and may lead to tooth decay. Plaque can also cause gum disease and bad breath. In fact, it's believed that over 90% of dental disease is caused by plaque accumulation alone.
Besides removing plaque, the fluoride in toothpaste strengthens tooth enamel and makes teeth more decay-resistant. Plus, brushing makes your mouth feel cleaner and your breath smell fresher. While there is no single "right" way to brush your teeth, there are a number of techniques that can help you get them squeaky-clean. So why wait — let's take a refresher course in brushing right now!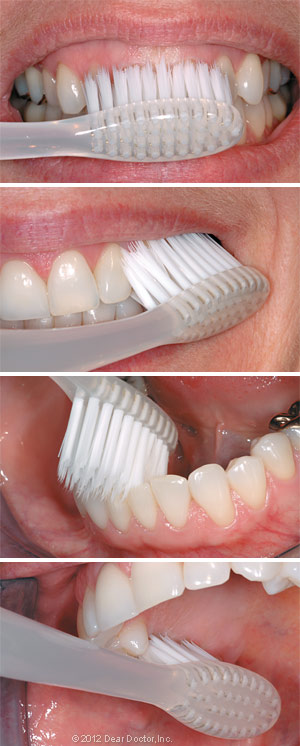 Proper Brushing Technique
To begin, select a small-headed, soft-bristled toothbrush, grasp it gently with your fingers (not your fist), and squeeze on a pea-sized dab of fluoride toothpaste.
Hold the bristles gently against the outside of your top teeth, near the gum line, at about a 45-degree angle upward.
Sweep the brush gently back and forth over teeth and gums in soft strokes — or, if you prefer, use an elliptical (circular) motion to clean the teeth.
Be sure to clean the spaces between teeth: You can use a sweeping motion to brush food particles away from the gums.
When you have done one brush-width, move to the adjacent area of your teeth and repeat. Keep going until you have finished cleaning the outside of the whole top row of teeth.
Move to the bottom teeth. Repeat the procedure, tilting the brush down toward the gum line at about 45 degrees. Finish cleaning the outside of the bottom teeth.
Go on to the inside of the top teeth. Tilting the bristles up toward the gums, clean the inside of the top teeth with gentle but thorough strokes.
Move to the inside of the bottom teeth. Tilt the brush down and repeat the procedure.
Now it's time for the chewing surfaces: Holding the bristles flat against the molars, clean the ridges and valleys of the back teeth. Do this for all the top and bottom teeth.
Finally, brush your tongue gently to remove bacteria and freshen breath.
Check Your Work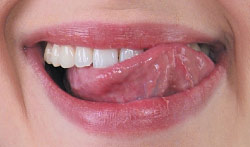 How good a brushing job did you do? One way to get an idea is by simply running your tongue over your teeth: If they feel slick and smooth, then chances are they're clean. If not, you should try again. To know for sure whether you're brushing effectively, you can use a "disclosing solution" — a special dye that highlights plaque and debris your brushing missed.
One common error is not brushing for long enough: two minutes is about the minimum time you need to do a thorough job. If you have music in the bathroom, you could try brushing along with a pop song; when the song's over, you're done! But no matter your musical taste, good brushing technique can go a long way toward maintaining tip-top oral hygiene.
Variations for Comfort
If you're having trouble with the two-finger method, here's another way to try flossing: Just tie the same amount of floss into a big loop, place all your fingers (but not thumbs) inside the loop, and work it around your teeth with index fingers and thumbs. All the other steps remain the same.
Once you've got the basics down, there are a few different types of flosses you can try, including flavored, waxed, and wider width. Some people find waxed floss slides more easily into tighter gaps between teeth or restorations — but it may not make that satisfying "squeak" as it's cleaning. Others prefer wide floss for cleaning around bridgework. But whichever way works best for you, the important thing is to keep it up!
Related Articles