Posts for tag: Veneers
By Artiste Dentistry LLC
April 12, 2021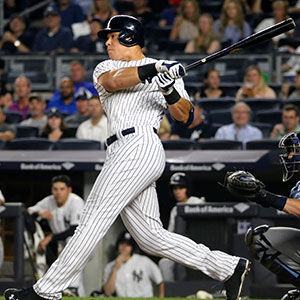 Between the final game of the World Series in late October and spring training in February, major league baseball players work on their skills preparing for the new season. Reporters on a Zoom call to the New York Yankees' training camp wanted to know what star outfielder Aaron Judge had been doing along those lines. But when he smiled, their interest turned elsewhere: What had Aaron Judge done to his teeth?
Already with 120 homers after only five seasons, Judge is a top player with the Yankees. His smile, however, has been less than spectacular. Besides a noticeable gap between his top front teeth (which were also more prominent than the rest of his teeth), Judge also had a chipped tooth injury on a batting helmet in 2017 during a home plate celebration for a fellow player's walk-off home run.
But now Judge's teeth look even, with no chip and no gap. So, what did the Yankee slugger have done?
He hasn't quite said, but it looks as though he received a "smile makeover" with porcelain veneers, one of the best ways to turn dental "ugly ducklings" into "beautiful swans." And what's even better is that veneers aren't limited to superstar athletes or performers—if you have teeth with a few moderate dental flaws, veneers could also change your smile.
As the name implies, veneers are thin shells of porcelain bonded to the front of teeth to mask chips, cracks, discolorations or slight gaps between teeth. They may even help even out disproportionately sized teeth. Veneers are custom-made by dental technicians based on a patient's particular tooth dimensions and color.
Like other cosmetic techniques, veneers are a blend of technology and artistry. They're made of a durable form of dental porcelain that can withstand biting forces (within reason, though—you'd want to avoid biting down on ice or a hard piece of food with veneered teeth). They're also carefully colored so that they blend seamlessly with your other teeth. With the right artistic touch, we can make them look as natural as possible.
Although porcelain veneers can accommodate a wide range of dental defects, they may not be suitable for more severe flaws. After examining your teeth, we'll let you know if you're a good candidate for veneers or if you should consider another restoration. Chances are, though, veneers could be your way to achieve what Aaron Judge did—a home run smile.
If you would like more information about porcelain veneers, please contact us or schedule a consultation. To learn more, read the Dear Doctor magazine article "Porcelain Veneers: Strength & Beauty As Never Before."
By Artiste Dentistry LLC
December 07, 2017
Your dentist in Sterling, VA Dr. Tara Moshiri, knows her patients want to have better-looking smiles, but sometimes the cost can be too
high. For that reason, Dr. Tara Moshiri suggests dental veneers.
Veneers are used to resurface an individual's teeth, especially if they're damaged.
Here are some things veneers can help with:
Stained teeth or discolored, due to poor hygiene, drinking coffee and tea, smoking, chewing tobacco or even antibiotics containing tetracycline.
Mishappened teeth, which includes: crooked, worn or chipped teeth, irregularly shaped teeth, uneven surfaces and uneven spacing, like overcrowdedness.
When you come into the Sterling office, your doctor will examine your teeth and assess whether veneers are right for you. If she decides it is, then any underlying issues, like cavities, will need to be resolved first. Then a model of your teeth will be sent to a lab where a custom set of veneers matching the color of your teeth will be made for you.
When your veneers finally arrive, your dentist will remove some enamel from the surface of your teeth then cement the veneers. Because your dentist removes some enamel, which is an irreversible process, and because veneers are made out of thin porcelain, you won't feel like your teeth are protruding. On the contrary, they will feel smooth, even and properly aligned with the rest of your teeth.
Other advantages of veneers, besides them concealing the faults mentioned above, is that veneers last longer than dental bondings and have an impressive color stability which makes them highly resistant to staining. So you'll be able to sip your tea or coffee without any worries.
In order to take proper care of your veneers, you need to brush twice a day and floss at least once before bed. It's important to prevent the buildup of plaque which may result in cavities and other serious issues.
For more information on veneers, contact your dentist in Sterling, VA, by calling (703) 434-3286. Dr. Tara Moshiri will be more than happy to help you with your dental needs!